1. Film and sugar coating are in one machine.
2. Punched hole pan design for efficient drying.
3. Short operation time: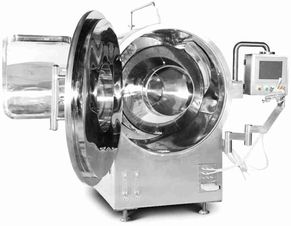 Film coating: 1 ~ 3 hr/batch.
Enteric coating: 3 ~ 4 hr/batch.
Sugar coating: 6 ~ 16 hr/batch.
4. Whole auto control by PLC for easy
operation.
5. Data record for whole process for easy
training.
6. Special baffle design for uniform tablet
mixing.
7. Multi safety interlock system for safety operator and avoid tablet damage.
8. CIP auto cleaning system for easy clean and save labor.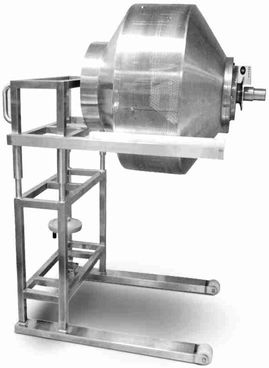 9. Explosion proof system is available for
organic solvent process.
10. Auto discharge system for easy discharge.
11. Auto control design for sugar coating, even
no experienced operator can easy operate
also.
Well mixed sugar syrup, automatic fixed
amount and fixed time, easy operation.
12. Uniform coloring, weight and smooth
surface for sugar coating.
13. Operation time about 6 ~ 16 hr/batch of
sugar coating.
14. All the design and manufacture are qualified
cGMP standard and FDA requirement. Change Pan Type
15. Optional equipment for different product feature.